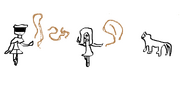 Gones and Desa
250pxpx
Gones and Desa sand bending.

Age

100 years old

Born

120 AC

Kingdom

Mordete
Gones and Desa are the first sand-benders in history of the world.
Gones and Desa lived in seperate kingdoms during the Golden War. When the war spread over all over the 7 kingdoms, the inhabitants fleed for a while while the war. When they came back to their kingdoms, they were destroyed. Gones met Desa when the kingdoms joined forces to destroy the invaders once and for all.